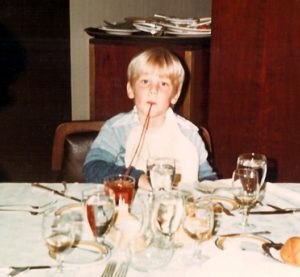 Born and raised in Normal, Illinois, I craved attention at a young age. To escape the banality of a healthy, cornfed Midwestern existence, I studied piano and music theory in a children's program at Illinois Wesleyan University, wrote short stories and plays, read true crime books, and performed in various theatrical productions. (I tend to turn just about everything into a theatrical production.)
My dream of becoming the next Woodward and Bernstein was thwarted when I was denied entrance into the University of Iowa's prestigious journalism school, so, inspired by the Village People, I went west to Los Angeles at age 18 and graduated three years later from California State University, Northridge with a degree in screenwriting.
I wrote episodes for Hollywood Off-Ramp (the E! channel's first fictional series) and penned the made-for-cable movie Romantic Comedy 101, which starred Tom Arnold and Joey Lawrence.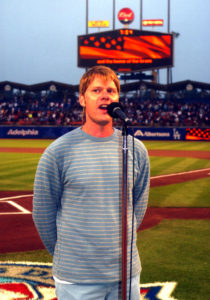 Still thirsty for attention, I began mic-crashing at now-defunct piano bars in L.A. like The Oasis & The Other Side. I auditioned for and was rejected by productions of Falsettos and Rent before making my professional singing debut on a grisly episode of Millennium, Fox's X-Files spin-off, crooning "This Little Light of Mine" as a woman faced death by real estate sign.
Not content to be a mere brushstroke in someone else's painting, I took to performing solo wherever I could find an audience. My first one-man show at the Gardenia in Hollywood played to a sold-out house, and a CD of that event is available if you can find someone to burn it for you.
When performing for small, drunken audiences grew tiresome, I entered a contest to sing the National Anthem at a Dodgers game and won. I was invited back twice and hope to one day have the stadium renamed in my honor.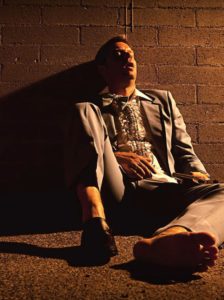 My 2004 production, Giving Til It Hurts You, a live one-man musical extravaganza that featured three other people, played for four weeks at the Split.Id Theater in Hollywood and did not recoup its investment. (It happens.)
I next the spent two seasons simultaneously working on the hit ABC Family series Wildfire and composing tantalizing copy for adult sites like Penthouse online and Napali Video ("Home of Big Breast Glamour & Cat Fights").
Doing my part to save the planet while also titillating it, I have written informative articles for a green alternative lifestyle website and an indie rock magazine, as well as tantalizing features for both Men and Freshmen magazines, for which I somehow ended up becoming editor in chief. My dream of becoming a respectable journalist was finally realized when I was hired as managing editor of The Advocate. I have written for a number of publications and websites, including Palm Springs Life, The Desert Sun, Queerty.com, Frontiers, GayDesertGuide.com, PetLife, R/M: The Magazine of Rancho Mirage, The Los Angeles Blade, BPM, and others.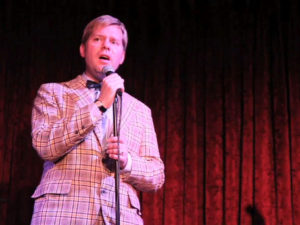 I returned to the stage in 2011 for a two-night gig I called Accidentally Overserved at M Bar (right). A live recording of the show titled On The Edge was released on LML Music in August 2012 and is available wherever music is sold these days (like Amazon). I've also performed with the Palm Springs Gay Men's Chorus and have been a soloist with Vocal Harmonics/Harmonic Voices.
For two years, Berlin was home — an experience I shamelessly exploited at the now-defunct ExpatsInBerlin.us — during which I served as a freelance book editor for Bruno Gmünder Verlag, curating the anthologies Indecent Exposures, Daddy Knows Best, Straight No More, Blowing Off Class, Whipping Boys, Until the Sun Rises, Out of Uniform, Hired Hands, Slave Boys, and the 2014 Lambda Literary finalist Team Players.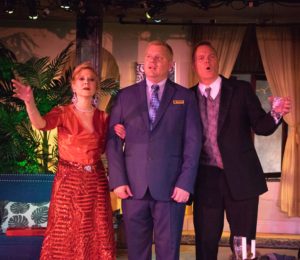 In 2017, I played beleaguered hotel manager Gage Holland in the West Coast premiere of Michael McKeever's Clark Gable Slept Here at the Desert Rose Playhouse in Rancho Mirage (left), California. The next year saw me in a revival of Tennessee Williams' Suddenly Last Summer as a disturbingly long-in-the-tooth George Holly.
My book Bang Like a Porn Star: Sex Tips From the Pros was released in February 2019, and it makes a great Christmas gift for those who are into that sort of thing.
Since 2019, I have worked as philanthropy and special sections editor at The Desert Sun in Palm Springs, where I cover nonprofits, fundraising, and people who give back in the Coachella Valley.
My passions include history (I served on the board of the Culver City Historical Society), criminology, the musicals of Stephen Sondheim, and the films of Nacho Vidal. I count Henry Rollins and Patty Hearst among my many influences.
Enough about Winston already! Take me someplace more interesting.